This is a mannequin's world
Fallsview Casino added some backstory to the props on its new billboard.
Life in the bowl
Toronto Public Health's sentient condoms are serious about sexual health.
McDonald's asks 'Qui aimes-tu?'
Cossette and Astral team up to bring messages of love to Montreal streets.
You'll love VW's new ads, but only like a friend
Why does Valentine's Day always have to be about romantic love?
Canadians fly high with Air Canada
The airline goes all in on the patriotism in new creative for the Olympics.
On Valentine's Day, #AgenciesNeedLoveToo
Toronto agencies can expect a greeting in the mail this year, sent with love by Elemental.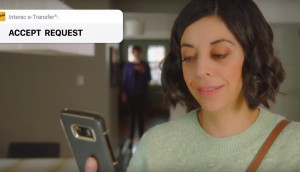 Interac's awkward moment
Asking a friend for money? We've all been there.
A stand against unpaid internships
Zulu Alpha Kilo is promoting its "Employeeship" program by challenging the entire industry to start paying their interns.
Baskin-Robbins Canada gets all-inclusive for V-day
Stop trying to wrap the unwrappable
Don't bag a bee hive! Plan International suggests playing it safe this Valentine's Day.