Random Cool
Marriage Valley and other tales by robots
This is what you get when artificial intelligence pens romance novels.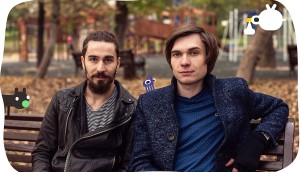 Never miss a thing
Two former ad guys left the biz to create an app that's like a scrapbook for babies.
Rock 'n roll glamping
A Beijing hotel has transformed its second floor into a communal sleeping space with tent-like structures inspired by music festivals.
A pet's life (in colour)
A connected game console for doggies disproves the theory that Fluffy is colourblind.
Barns make the best sound stages
Symphony in the Barn will have classical musicians performing alongside cows.
A man in a century-old oil painting just took a selfie
What happens when technology gives mid-century paintings a modern-day update at the AGO.
Now you can read your baby's mind
Babylook was created to "extract" your little one's thoughts and emotions for more effective parenting.
Globetrotting creatives see double
A couple left the ad biz to travel the world and live a life of deja vu.
Podcasts in physical form
Artist Seung Tae Oh provides a tactile companion to audio stories.
I want you on Team Zissou
Adidas released 100 pairs of the Rom Zissou sneaker from Wes Anderson's The Life Aquatic.