Oh, the horror
Moving offices scared this agency so much that it made a film about it.
Cougar central
A place where experienced women meet younger men (we couldn't make this stuff up even if we tried).
Musical streams
Cashmere plays classical music inside toilets to help shy bathroom visitors go.
Slide, step or shuffle to the debit machine
CIBC and Samsung give you permission to forget your wallet.
A new design for the design school
Emily Carr University's branding is redesigned ahead of its move to a new campus.
NABS wants to talk, too
In a new video for the charity, Quiver's Graham Budd tells his story of internal struggles.
That's so Canadian
CIBC and Kia set up camp on snowy hills, replacing ski lifts and installing ski-thru ATMs in new online videos.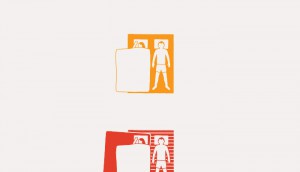 How bitter can you go?
New print ads for Farnham Ale & Lager show a range of bitterness for everyone, from blanket hogging bedmates to clumsy boaters.
The spiders are on our side
The Canadian Centre for Child Protection uses an animated video to take on a difficult subject.
Rick Campanelli knows baby gear
The TV star's baby should get an Emmy for his patient performance in Best Buy's new "Dad Hacks" spots.