No more skipping work for the cable guy
Now you can creepily track Rogers technicians en route to your home.
It's so damn hot
The Dairy Farmers offer milk as a good summer choice.
Banking on music
RBC launched a music portal allowing customers to take advantage of live events.
This forecast brought to you by Svedka
The vodka brand's new tool helps you plan your party's drink menu.
High-octane cuisine
The Canadian Food Truck Festival and The&Partnership merge trucks with treats in a clever poster campaign.
No more blank brains
Red Lion enlisted director Mark Zibert to create a slow-moving, heart-racing video to raise awareness for the Telus Health Brain Project.
Animals doing peculiar things on cider bottles
Cid and Vergers de la Colline get a new look from the folks at Lg2.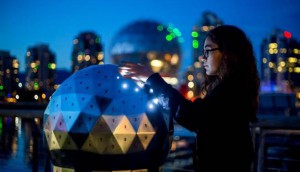 Shape the skyline in real-time
Now you can control the lights on the Science World dome by touching a scale model of the building just across the way.
Good times are waiting outside
MEC's activity generator has a little something for everyone.
Fishing with dad and making forts with friends
The Air Canada Foundation puts little tykes in front of the camera to share the perks of being a kid.